BMW & Porsche Auto Repair in Huntington Beach, CA (Orange County)
Ron Catt Auto Care is your neighborhood's dealership alternative.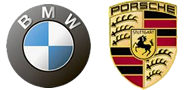 Why Pay More For BMW and Porsche Service At The Dealer?
Ron Catt Auto Care experience with BMW and Porsche and all types of auto repair in Huntington Beach goes back nearly 50 years. Our BMW and Porsche Service Department is staffed with highly trained BMW and Porsche technicians who will property identify and repair your vehicle's problem.
Consider Ron Catt Auto Care your dealership alternative!
Services Include:
• Engine Diagnosis & Repair
• Computer Diagnostics
• A/C Service & Repair
• Electrical System Diagnosis & Repair
• Brake System Repair
• Tires: Mounting, Balancing & Flat Repair
• Suspension & Steering Repair
• Tune-ups & Oil Changes
• Cooling System Service & Repair
• Factory Recommended Maintenance
• Engine Repair & Replacement
• Pre-Purchase Inspections
• Safety Inspections
• State Inspections